Its been two weeks since that day.  My shock day for 2018, I am going to call it. Where I pummeled down to the lowest a man can go.
I have stopped thinking over it. Today I met my supervisor who is back from holiday. Meeting her would, I thought, be embarrassing. I was losing sleep over it. I had said all my byes and said, enough and all that and then now I am eating humble pie. Life seems to be about eating humble pie often. It just goes to show where man thinks he/she is and that that position is not at all stable. It is perhaps better not to soar too high, so the fall is not too great. Arrogance – I must have been arrogant or I would not feel like I am eating humble pie, right? Well, it is a lesson, well learned.
The meeting with the supervisor was not too bad. She seems happy to have me back. I am grateful for the money from the job. I am grateful for the freedom of spending again but of course, I wish life had taken a different course. In a way I am glad, I am here, yet, to support my family while they are making changes in their lives but when I get an email from my college- I still call it that, there is a certain wistful thinking, of things that might have been. Maybe older women are not meant to study and are just meant to mind the hearth. I feel like Jo of Little Women when she returned from the boarding house home and found that everything looked the same but nothing satisfied.
For the past two months( since April), my diet and watching over my weight has all gone for a toss. With daughter 2's exams looming on the horizon and the family predicting doom about her admissions, it took all of my positive spirits and bucking up to keep things up. Exams done, she did well, she secured admissions to good colleges but the midnight oil that burned during the process and the sleepless nights, the leptin and the increased, never-ending appetite and the eternal hunger pangs and the consolation, albeit temporary from eating food, even icecreams( which I have never even liked since childhood) and sweets( which I haven't eaten since 2004), all goes to show how much of a toll the constant pushing of my limits was taking on me. I have not been taking care of myself.
I didn't care anymore. I didn't. Really, I mean, what is the point of living so long anyway? If I eat well and exercise and look well, what is the point? At some time, I am sure to get some lifestyle disease or some cancer or something else. See my thoughts. There was no rhyme or reason to them- was it the beginning of the empty nest syndrome?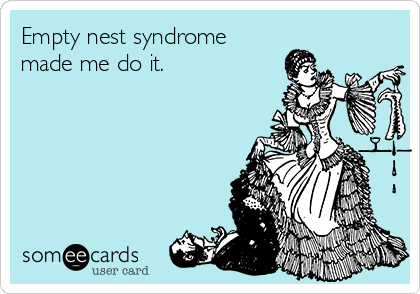 Anyway, the thing is, this week, I have taken time to read and write and look well- put makeup on. I know makeup makes me look, well, made up and I am someone who loves the natural, no make up look. Still, I did some blackening of my eyes, some color on my face, smoothening up some holes, dental work, and hair care. I have rubbed lotions and oils on my body and put vitamin E cream on my face. This last because there was a tube of this very expensive cream lying on my dresser, I had never used before but must have bought some time in a trance and never used. The day after using the cream, I looked at my face and it looked different. By that time, I had forgotten I had done something to my face the previous night( applying the cream). My face shone like it used to when I was younger. Suddenly it struck me that I had rubbed some of that cream last night on my face. So the second night in a row, I applied some more of it on my face. Today, this morning, I looked at my face, and I notice, my face shining. This cream seems to be working on my menopausal skin.
This seems to be a good time to take care of me. No family, plenty of time, only my cat to take care of. Well, the point of this post – at last.
I am going to do the keto diet- this diet seemingly works for me as I am not very fond of carbohydrates anyway and can eat all I want of fats, what is not to like?
It is a 24 hour fast today- only lemon water, black coffee, tea allowed. This is a detox to get rid of all the sugars in my body.